Moments before the rapper was shot, he said to have had some final conversation with the alleged shooter.
The video that captured Nipsey Hussle's final moments revealed that he had a conversation with his shooter before he passed.
Shortly after having a brief conversation with Eric Holder on March 31, Hussle was shot several times and kicked in the head by Holder, according to grand jury transcripts unsealed on Thursday and obtained by the Los Angeles Times.
As he lay dying after being shot at least 10 times, Deputy District Attorney John McKinney told the court, that the 33-year-old rapper, turned to Holder, 29, and allegedly told him, "You got me."
Hussle's heartbreaking final words were just one of the many details that were unveiled last week from the May grand jury proceedings.
According to the Los Angeles Times, on the day of the shooting, Holder and his girlfriend pulled into a busy parking lot at the time to get food from a burger restaurant. That's when Holder allegedly spotted Hussle.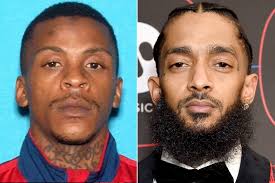 The two then had a conversation that allegedly had something to do with Hussle telling Mr. Holder that word on the street was that Mr. Holder was snitching. After a short exchange, Holder then got back into his car, and he and the woman drove off.
As they drove off, Holder allegedly pulled out a gun and told the woman to drive around the block so that he could load the weapon, the D.A. told the grand jury.
He then allegedly told her to pull over and said he'd be right back. It was at that moment that McKinney said Holder allegedly approached Hussle outside of his store and shot him multiple times, before kicking the rapper in the head and fleeing.
When he got back into the car with the woman, he told her to quickly drive away, McKinney alleged. When she questioned him on what happened, she said he threatened to slap her if she didn't just drive, the D.A. told the grand jury.
The Grammy Award nominated rapper was 33years when he died. He was a rapper, a husband, father, an activist, an entrepreneur and also had an established presence in the music industry. He has collaboration with the likes of Drake and Diddy.
Before his death, he had some dark past but has always been open about it and tried within his capacity to stop violence. Unfortunately, his life was cut short.