A few days ago, one of Nigeria's finest Instagram comediennes – Gloria "Maraji" Oloruntobi – via her official Instagram page (@maraji_) shook the entire Nigerian social media table with her comment on religion, and Nigerian netizens have not taken kindly to the comment as the majority of them has called for her head.
In a post shared on her Instagram Story, Maraji stated that contrary to popular belief, Jesus is the only way to heaven and not either Allah, Buddha, Krishna or evolution.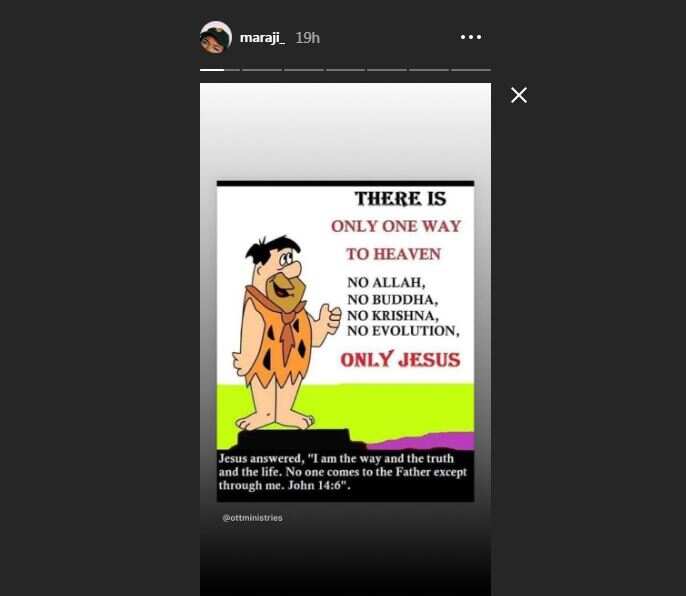 She went on to share screenshots of a message from an Instagram follower who cautioned her about the post and Maraji in the screenshot, insisted that other religions do not worship the same God as Christians.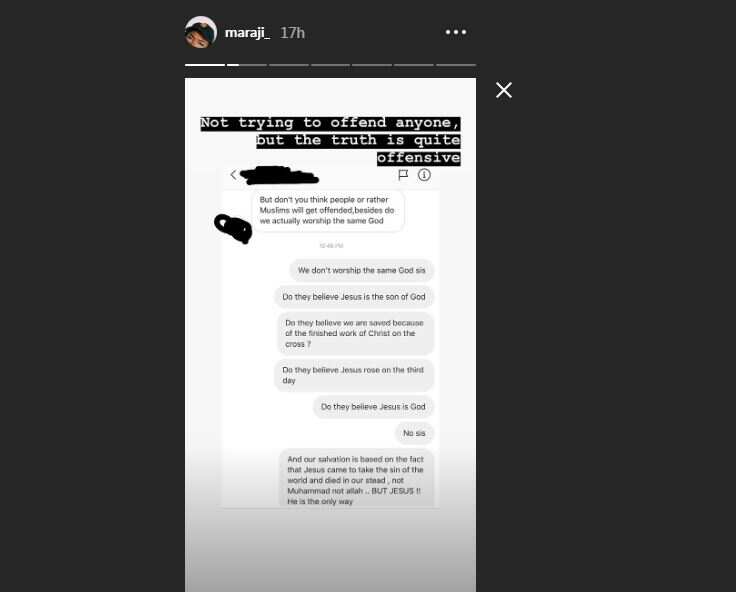 Reacting to the post, a large number of Nigerians took to their respective Twitter pages to express their displeasure at the comment as many termed it "distasteful and insensitive", considering that the Nigerian Muslim community are celebrating Eid-el-Kabir, while some Nigerians clearly see nothing wrong with her comment.
Maraji is not talking to Muslims. I'm a Muslim, & I serve only one God. That God is called Allah in Arabic. Lots of Christians are Arabs or speak Arabic. God is Allah in Arabic (She no sabi). I believe in Jesus (Isa), may blessings of Allah be upon him. She's not talking to U & I pic.twitter.com/lGspJtnZRc

— B h a d o o s k y (@BhadmusAkeem) August 12, 2019
I don't know if this is what Maraji learnt in the bible.. But me being a Muslim, I believe in #Allah as the only God and Jesus remains nothing but the messenger of my God (Allah)… Everyone is free to practice what he wants, arguments may lead to dispute 🙌🤐 pic.twitter.com/1rQUEkWlLX

— Innocent Dadeen😎 (@dadeen__) August 12, 2019
These are undisputable,undeniable credible facts #maraji mentioned.
HARD FACTS!!! pic.twitter.com/OS8DN0E3Wh

— WarepamorSammy 🇳🇬 (@Warepamorsammy) August 12, 2019
On Maraji: it is not what she said but when she said it – to post that on a Muslim feast day is insensitive. Wisdom is profitable to direct. Same energy I feel when ppl pick Christmas Day/Easter to remind me of their beliefs that I'm of a wrong faith.

— Mark Amaza (@amasonic) August 12, 2019
While @Maraji_ is entitled to her belief that all religions other than Christianity are false, she's insensitive to her fans in that regard. We all believe our religion is THE answer, but there's wisdom in knowing how to deal with a diverse society, especially as a public figure.

— Gimba Kakanda (@gimbakakanda) August 12, 2019
Do you think Maraji is right with her comment? Share your thoughts with us in the comments.