There is no doubt that Linda Ikeji is one of the most popular female celebrities, not only in Nigeria but in Africa at large. Her rise to fame and wealth through a profession that was least known and respected in Nigeria still puzzles many. However, her consistency, doggedness and hard work have contributed to her success as a blogger and media entrepreneur.
In fact, her life is indeed an inspiration to many African youths, most especially young ladies who struggle to make it in a society largely dominated by men. Like most people around, Linda was just a lady with a dream and few coins in her pocket; yet she dared to press forward to beat the odds.
Lets take a look at her story from grass to grace.
Background
Linda Ifeoma Ikeji was born on September 19, 1980. She is the second of seven children from her parents who hail from Nkwerre, Imo State. She was raised in a Catholic home and like most Nigerian families, they went through their fair share of financial instability.
Linda began writing short fictional stories as a hobby at the age of 10. Added to her knack for storytelling, she was always fascinated by interviews and the news. For this reason, she decided to pursue a degree in Mass Communication at the University of Lagos but as fate will take its course, she was enrolled to study the English Language.
Young Linda began to fend for herself at the tender age of 19 due to the family's financial instability. She worked different jobs just to make ends meet; from working as a waitress to ushering at occasions to bartending and modelling – Linda possessed skills that made her excel in her areas of expertise.
Although modelling in Nigeria at the time was still in its baby steps, Linda saw it as an avenue to feed and help her way through school rather than delve into ventures that'd take her dignity or tarnish her family name.
Upon graduation from the University of Lagos, Linda began her own modelling agency called "Black Dove Communications" – a name coined and inspired by Silverbird. The business did not succeed as she had hoped and since modelling couldn't pay the bills, she turned all her attention to blogging and made the most of it.
Success Journey
Linda can be described as a self-made millionaire. She made her money without any scandals but through a steady growth in her blog which rose to become the number one in Africa.
Linda's success story is just like the stories of most successful people who had to make lemonades from the lemons life threw at them. Her journey was filled with hardship, financial instability and as a young beautiful lady in the modelling world, she had her own fair share of distractions from men. As a matter of fact, she used to borrow money to go to the cybercafes, just so she could blog. However, it is amazing how she struggled through it all with determination and focus.
Linda started blogging in November 2006 – a time when internet access was limited and expensive in Nigeria. In fact, it was also a time when very little people blogged about their private lives or families and since the inception of Linda Ikeji's Blog, the blog has been one of Nigeria's go-to source for daily news. As a matter of fact, if the news isn't on Linda's blog at the time of breaking, some people don't find it credible.
"LIB" as it is popularly known began as a gossip blog (which was then the first of its kind in Nigeria) and graduated to become the centrepiece of Nigeria's entertainment; covering news and events, lifestyle, fashion stories and a host of others. At the time of this writing, LIB currently ranks 38th on the Alexa ranking in Nigeria and 4,124th worldwide. On Instagram and Facebook, LIB currently has 26.6k followers and 244K members respectively.
Following the success of her blog, Linda Ikeji launched a social networking site and an online TV called Linda Ikeji Social and Linda Ikeji TV respectively. The aim of the social networking site was inspired by a group of LIB audience that once told her that they visit only two websites, Linda Ikeji's Blog and Facebook. Hence, she decided to incorporate what both sites offer into one, the Linda Ikeji Social.
Net Worth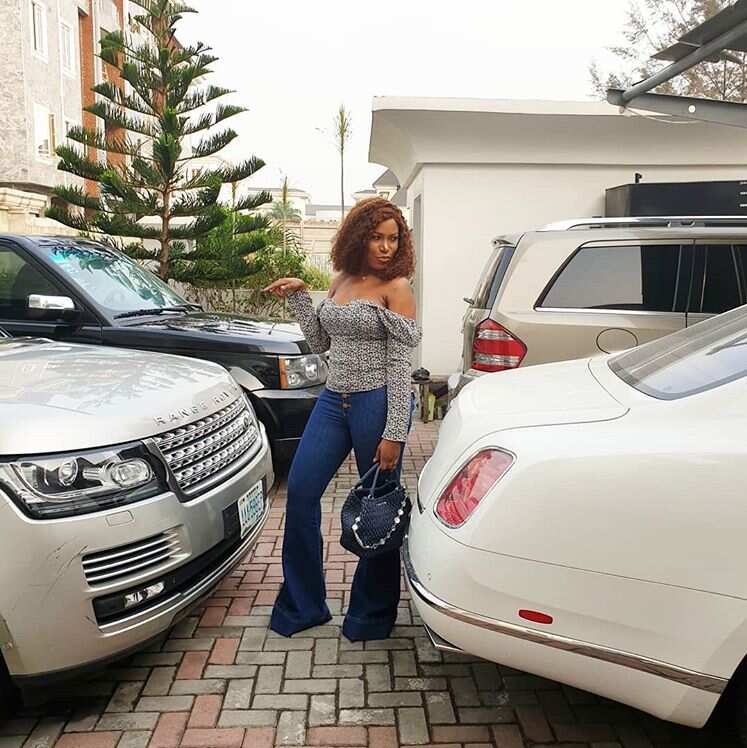 Today, LIB has become a top brand in Nigeria and beyond. It has practically become an enviable money spinner, which rakes in at least five million naira monthly for Africa's richest blogger. Linda makes huge money through her blog from the adverts run by top Nigerian companies and entertainment business outfits.
Currently, LIB is worth more than $12 million in value! As a matter of fact, Linda Ikeji herself is estimated to worth N3.2 billion.
Linda is so rich from her blogging efforts that she could practically afford anything she wants. In 2015, Linda bought a mansion worth over 600 million naira in Banana Island, Lagos to the surprise of many. She has also bought properties worth millions of naira for her parents and cars worth millions of naira for her siblings. In fact, the one-time "struggling model" recently added a new Bentley Mulsanne to her fleet of cars to mark the birth of her child, Jayce Jeremi.
Family
Linda is the second born of seven children born to Mr and Mrs Ikeji – a middle-class Catholic family from Nkwerre, Imo State. Her siblings are namely;
Benita Ikeji
Vera Ikeji Shilobod
Laura Ikeji
Peks Ikeji
Edna Ikeji
Sandra Ikeji
On her relationship with men, Linda has always kept her mouth sealed when it comes to her private life. People have been left in continuous speculations as to who she is dating or engaged to. She has been speculated to be going out with Don Jazzy and a host of other notable names.
Most recently, she was suspected to be seeing Sholaye Jeremi and the rumours turned out to be true when she gave birth to her son, Jayce Jeremi. The boy's surname confirmed the suspicion that she was indeed going out with Sholaye.
However, the relationship doesn't seem to be alive anymore because Linda took to her blog to detail reasons why her relationship with her son's father, whom she met in December 2015, didn't work out as expected.
Philanthropy and Recognition
It is common knowledge that Linda derives pleasure in engaging in lots of philanthropic activities. She is notably known for her "I'd rather be self-made" project – a project that is aimed at supporting young girls between the ages of 18 and 26 who have great business ideas and are willing to venture into entrepreneurship. Through this project, Linda has been able to dol out over N10 million to different girls whom she deemed fit her ready to be their own boss.
In August 2012, Forbes Africa dedicated itself to celebrating African women and in that month's issue, Linda Ikeji along with Chibundu Onuzo (a Nigerian novelist) was profiled as one of Africa's 20 Most Prominent Women. Also in 2014, popular search giant, Google, named Linda Ikeji as the most searched term by users in Nigeria.
On August 8, 2018, Linda Ikeji was among eminent personalities drawn from different countries across multiple disciplines who were conferred with Honorary Doctorate Degree from Trinity International University in Georgia for her outstanding job in Business and Media in Africa.
Did I miss anything out? You can share with us in the comments.