If Kylie Jenner was smart enough to hide her pregnancy from the public for nearly nine months, then keeping her wedding plans hush-hush may not necessarily be out of her league either.
The young entrepreneur recently sparked wedding rumours after she was spotted by paparazzi boarding a private jet in Los Angeles dressed in what appears to be a wedding gown.
In the photos, an airport employee is carrying two garment bags, one with a white, fluffy train dangling out of it, and another containing what could be a suit. This, of course, begs the question of whether or not a wedding between Jenner and Travis Scott will be going down very soon.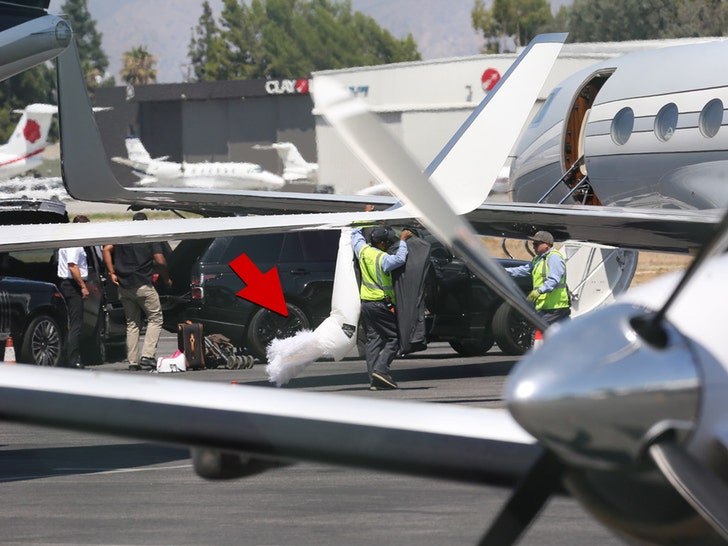 Kylie boarded the plane with Travis and their baby Stormi, plus Kris Jenner, Scott Disick, Sofia Richie and Corey Gamble. Also, Kylie's assistant, Victoria along with her friends Stassi Karanikolaou and Yris Palmer were also spotted boarding the private jet.
However, despite the glaring evidence pointed at the wedding bells, reports have claimed that a wedding seems unlikely since Jenner's sisters, Kim and Khloe Kardashian were noticeably absent on the flight.
Moreover, it is Kylie's 22nd birthday this weekend and reports have claimed that Kylie in the company of her family and friends flew to Italy to celebrate the youngin's birthday bash on a $250 million mega-yacht known as "Tranquility."
Whether or not if Kylie will walk down the aisle this weekend remains unknown but you can trust us at NOLLYWOODALIVE to bring you all the juicy details from Kylie's birthday celebration.
In the meantime, do you think Kylie will walk down the aisle this weekend? Share your thoughts with us in the comments.