The Duchess of Sussex, Meghan Markle has given birth to a boy with her husband, Prince Harry by her side after going into labour in the early hours of Monday, 6th May 2019. Speaking from Windsor, the Duke of Sussex while announcing the birth of his firstborn said;
I'm very excited to announce  that Meghan and myself had a baby boy this morning – a very healthy baby boy.
The newborn is seventh in line to the throne, behind the Prince of Wales, the Duke of Cambridge and his children – Prince George, Princess Charlotte and Prince Louis – and Prince Harry, his father. He is also the Queen's eighth great-grandchild.
In honour of the child's birth, a ceremonial easel holding a framed notice of birth was placed in the forecourt of London's Buckingham Palace. The notice read;
The Queen and the Royal Family are delighted at the news that Her Royal Highness The Duchess of Sussex was safely delivered of a son at 0526am today.

her royal highness and her child are both doing well.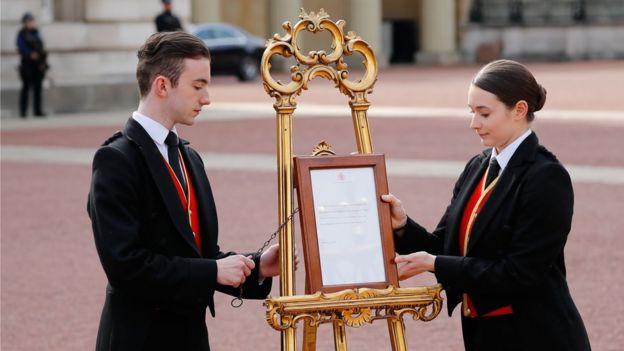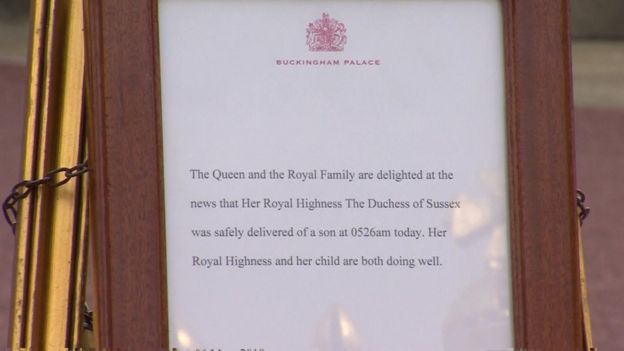 While making the announcement, an elated Prince Harry said the child had been a little overdue and that he planned to make another announcement in two days' time so everyone can see the baby.
We obviously can't wait to see the latest addition to the royal family…
As a matter of fact, we are keenly awaiting the announcement of his name too. Since the announcement of Meghan Markle's delivery, speculations on what the newborn will be called have begun to troop in. The baby boy, who has been nicknamed Baby Sussex by fans has names like Arthur, Alexander, James, Edward amongst others making the rounds.
Well, should Harry and Meghan grow confused as to what their child's name will be, here are some lovely Nigerian names Baby Sussex can be called; Ademuyiwa, Adeyemi, Adekunle, Obinna, Sanusi, Chikwado, Aminu etc.
LOL!
The baby is a dual citizen, having automatically acquired US citizenship, via Meghan, at birth. Meghan's mother is African-American and her father is Dutch-Irish, so the infant is believed to be the first mixed-race child born to a senior member of the British Royal Family in centuries.
The couple got married on the 19th of May 2018 after dating for nearly three years.
Congratulations to the Duke and Duchess of Sussex!