For a musician to attain some level of success in the music industry, managers are an integral part of the journey. However, some talented musicians have faded to oblivion because they do not have qualified managers to handle the business aspect of their music.
Although some have succeeded in the business without a manager or management, while some recognised that doing things on their own does not always yield positive results, hence the need to cry for help before it is too late.
Just recently, popular Nigerian singer, Tekno Miles, took to his social media page via Instagram to lament about his music career.
According to the singer, he stated that he is tired of doing things in music alone and is in dire need of a manager. Explaining further, Tekno added that he needs someone who knows what to do with him as he only knows about music and not the managerial aspect.
In his words;
Guys pls i need manager.

I'm tired of this solo shit.

Pls i need someone that knows what to do with me.

Na music i sabi.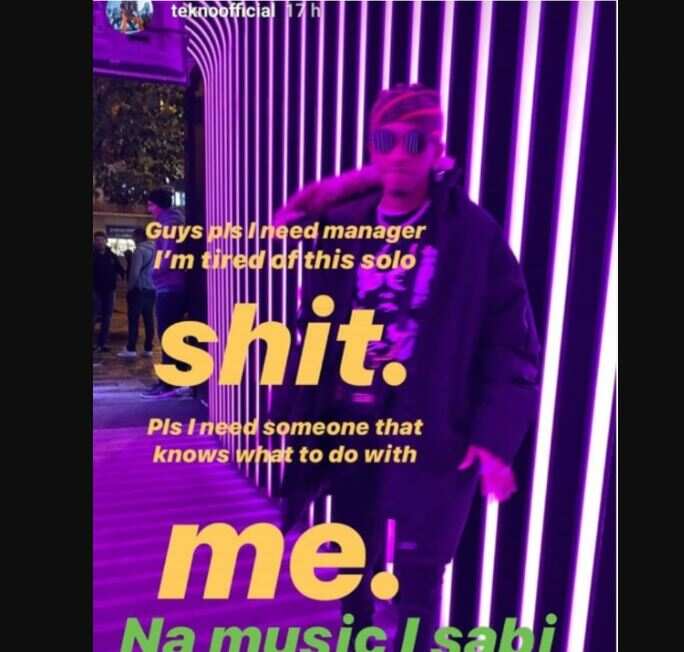 You'd recall that Tekno recently left his record label, MMMG. On his departure from the label, his boss, Ubi Franklin penned an emotional farewell to the singer stating that several people questioned his move to sign Tekno five years ago because he was rude and arrogant. Although he claimed he shunned their comments, he is grateful Tekno never disappointed him during his time with the label.
So, who will manage Tekno now?
Copyright NOLLYWOODALIVE.
All rights reserved. This article, material and any other digital content on this website, may not be reproduced, published, broadcast, rewritten or redistributed in whole or in part without prior express written permission from NOLLYWOODALIVE.
Contact: editor@nollywoodalive.com